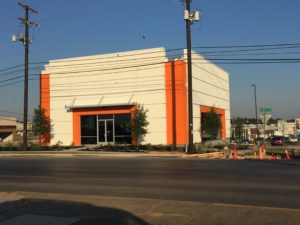 Fast Facts
Project:  Stanton Optical
Size:   3,650 SF
Cost:  $672,000
Project Type:  Commercial Retail
One challenge we were able to overcome was drainage due to the topography of the site. We worked with the owner and landscape contractor to provide a site that satisfies the landscaping ordinance as well as draining and maintenance issues
.
Perfect Record
Pearson Construction has completed projects at or before the scheduled date in 100 percent of contracts since our founding. Our experts manage their responsibilities in a timely and organized fashion, so the end result is punctual and excellent workmanship. In fact, our finished work is often recognized by colleagues in our field as going above and beyond.
Quality
As the leading commercial general contractor in Waco, Texas, Pearson Construction's namesake Bob Pearson would lose money rather than give his owners a less-than-quality outcome on a project. Today, Pearson's son Scott still believes in and enforces that tenet. In fact, Pearson is the recipient of the Outstanding Construction Award from the Associated General Contractors of America (AGC), and the Golden Trowel Award from the United Masonry Contractors Association for leadership in building. Our quality program includes:
Walk-Throughs
Progress Reports
Weekly Meetings
Low Turnover Rate
I don't care who you are, at the end of the day, everyone wants to be treated fairly, be appreciated and know that they are a needed member of the team. – Scott Pearson, president, Pearson Construction
Safety
Safety is paramount. Pearson Construction has been awarded the Certificate of Recognition, Excellence in Safety Programs by the Texas Chapter of the Associated General Contractors (AGC), and the company has a full-time team member dedicated to safety enforcement. Pearson requires employees to strictly adhere to the Pearson Construction operations manual which includes rules that meet and surpass the safety requirements of the Occupation Safety and Health Administration (OSHA). Our company has never had a worker fatality during duty, has an exceptionally low safety modifier and has never been investigated by OSHA.
Contact Pearson Construction, the leading commercial general contractor in Waco, Texas.