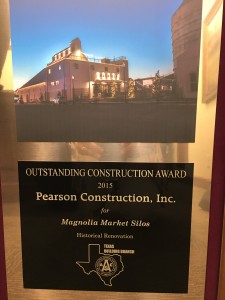 WACO, TX (September 6, 2016) — Pearson Construction announced today that it received a top award for the renovation on the Magnolia Market Silos in downtown Waco, owned by the stars of HGTV's "Fixer Upper."
The "Outstanding Construction Award for Historical Renovation" was given at this year's annual Association of General Contractors Texas Building Branch convention. The Magnolia Market Silos, which were once an eyesore to the locals, are now a main attraction since Pearson Construction finished the project in October 2015.
Chip and Joanna Gaines' vision was to maintain the open, rustic charm of the old silos, while giving the entire property a much-needed facelift. When planning the window placements, Pearson designers solved unanticipated spacing issues because of the request to work around existing features. What was once near collapse from termite infestation is now a desired road-trip destination for many Americans.
"We were delighted to accept the challenges of restoring this historical site and honored that our work was recognized by the AGC," said Scott Pearson, president of Pearson Construction.
Creativity and attention to detail were a priority for Pearson. To create a mid-century, post-modern aesthetic look, Pearson installed pressed, recovered barn tin to make ceiling tiles and hand-bent conduits throughout the facility. The distinct feel of Magnolia Market is recognized in the character of the building.
Pearson also installed four-story elevators with a duel-opening cab that provides landings to each level. The offices, which serve as a loft-style working space for the employees, include a rooftop laid with turf for leisure activities.
According to the Waco Tribune-Herald, an estimated 15,000 shoppers per week flock to the Magnolia Market Silos. Pearson will continue to work with Magnolia during the next phase of this project, which includes renovation to the existing sidewalks along 6th Street along by concealing overhead utilities to enhance the sight lines.